MedQuest Camp Celebrates 25 Years of Promoting Health Careers
"I feel like I've finally found my future!" said Montana Polke following her participation in this year's MedQuest Health Career Exploration Camp. The incoming Huntington High School junior was one of 36 exceptional candidates selected to attended Northeast Oregon Area Health Education Center's (NEOAHEC's) MedQuest camp from June 19th-23rd. Celebrating the camp's 25th anniversary, NEOAHEC welcomed the largest MedQuest cohort to date, with students representing 14 Oregon counties.
Held at Eastern Oregon University in La Grande and the surrounding community, NEOAHEC's annual week-long camp is designed to inspire students to pursue health careers by opening their eyes to the vast and exciting possibilities in the field. This year's MedQuest camp boasted an array of informative, one-of-a-kind, and memorable activities to spark participants' interest in the medical world. Students shadowed two healthcare providers; sat in on stimulating medical panels and presentations, practiced the basics of emergency wilderness rescue atop Mt. Emily; honed real-life medical skills by working on mannequins at OHSU School of Nursing; became CPR certified; and much more. A few thrill-seeking students even got to experience an adrenaline rush by riding along on live ambulance calls. In addition, MedQuest 2017 featured a rare field trip to the Cadaver Lab at Blue Mountain Community College in Pendleton, where students were able to get up close and personal with human anatomy.
Bailey Gillette, MedQuest 2017 Camp Director and a former participant and counselor, said she relished the opportunity to experience the program from a leadership perspective. She pointed out that she enjoyed adding her own personal touches to camp and noted, "One of the most rewarding aspects of MedQuest was seeing kids light up when they discovered what they are passionate about."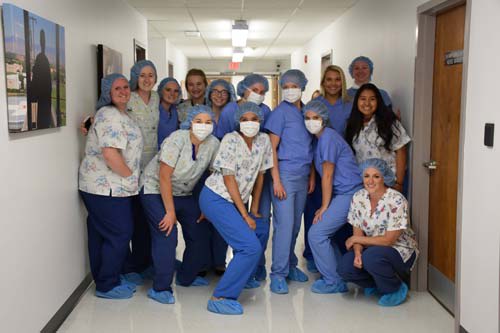 As always, MedQuest continues to receive rave reviews from students. Isabelle Sauers, an incoming Elgin High School senior said, "MedQuest allowed me to experience things I never thought I would. The counselors were so awesome, and meeting people who want to pursue similar careers was amazing." Phillip Hernandez, a rising Marshfield High School senior and aspiring orthopedic surgeon, added that he hopes to come back to MedQuest in 13 years as one of the camp's medical presenters so he can discuss how the experience inspired him.
View more student reflections in this camp wrap-up video:
Camp data also continues to affirm MedQuest's positive outcomes. For example, 97 percent of MedQuest survey respondents indicated that they knew substantially more about health professions than they did at the start of camp. Similarly, 76 percent of these students "strongly agreed" in response to the statement, "I am confident that I want to pursue a career in healthcare," compared to only 56 percent in the pre-test provided at the start of camp. Even more exciting to NEOAHEC, 80 percent of respondents agreed or strongly agreed to the statement, "I would consider a job in rural healthcare after my job shadow experiences." This evidence makes it clear that MedQuest still continues to play an irreplaceable role in NEOAHEC's mission to educate and inspire students to build a sustainable healthcare community for Eastern Oregon
"We are so proud of how MedQuest has grown and continues to stretch the possibilities of students who have a real interest in becoming a healthcare provider," said Meredith Lair, NEOAHEC Executive Director. She added, "This exceptional camp would not be possible without the partnerships we depend on. The commitment of our medical community, university, and others really make this camp the success that it is every year." With this said, NEOAHEC would like to thank the following list of individuals and organizations for their role in MedQuest 2017:
All American Chiropractic - Lance Shoemaker, DC
American Diagnostic Corporation
Animal Health Center
Apple Eye Care
Blue Mountain Community College
Blue Star Coloring
Cascades East AHEC
City of La Grande Fire Department
Community Bank
Domino's
Eastern Oregon University
Eli Mayes, DDS
4imprint.com
Gary Oswald, Dipl.Ac, Lac, MAOM
Good Shepherd Community Health Foundation
Grande Ronde Hospital:

Dara Fields, NP-C, Mackenzie Byrnes, Sherri Stirewalt, Emergency Dept., Surgi Center, General Surgery, Lab, Women's Clinic, Pediatric Clinic, Family Birthing Center, Operating Room, Radiology Dept., Intensive Care Unit, Oncology Dept., Pharmacy, Physical Therapy Dept., Respiratory Therapy Dept., Cardiology Dept., Ortho Clinic, and Regional Medical Clinic.

Idaho Power
Koza Family Dental Care - Steve Koza, DMD
La Grande Center for Human Development
La Grande Family Eye Care - Samuel Kimball, OD, MS, FAAO, and David Glabe, OD, MS, FAAO
La Grande High School/Angel Fund
La Grande Rural Fire District
Legacy Ford
Life Flight Network
Mark Harris, DMD
Moda Health
Morrow County Health District/Pioneer Memorial Hospital
Mountain Valley Therapy - David Ebel, PT, James Gorham, MPT, Lasa Baxter, NASM, CPT, and team
OHSU School of Nursing - La Grande
Oregon AHEC
Oregon Pacific AHEC
Oregon Trail Electric Co-Op
Red Cross Drug
Rushton Podiatry
Soroptimist International of La Grande
St. Anthony Hospital - Larry Blanc & Emily Smith
The Dalles High School
Totally Promotional
Union County Emergency Services - JB Brock and team
Winding Waters Medical Clinic
Winters Naturopathic Clinic - John Winters, ND
2017 MedQuest Counselors


Summer Brunoe, Marti Erice, Stephanie George, Hailey Hulse, Hannah Schaafsma, Shelby Smith, and Baylee Thompson.
From the scholarship donors and in-kind contributors, to the medical professionals who lent their time to medical presentations or job shadows, these supporters made this year's camp a phenomenal success. NEOAHEC looks forward to working with them again in 2018 to continue this program's legacy.
Click here to view more camp photos. Be sure to stay tuned for new updates from NEOAHEC.