Celebrate the Power of Rural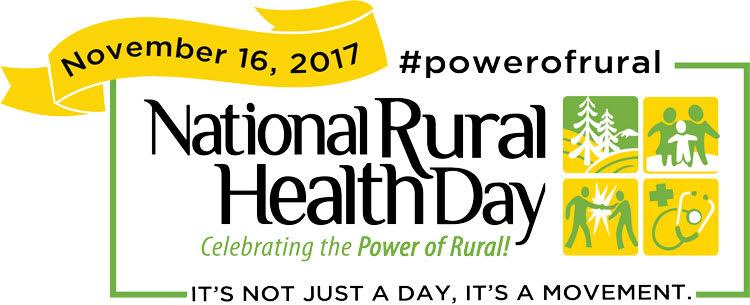 By Meredith Lair, NEOAHEC Executive Director
Rural communities are wonderful places to live and work, which is why an estimated 36% of Oregonians call them home. These small towns represent all of Northeast Oregon—farming communities and frontier areas where neighbors know each other, listen to each other, respect each other, and work together to benefit the greater good.
"We closed early for Halloween to participate in Elgin's "Trunk or Treat" and gave out plastic vampire teeth and hot cider to the community of Elgin," said Yvonne Hollett, an OHSU Community Dentistry student rotating with Dr. Eli Mayes at Elgin Family Dentistry.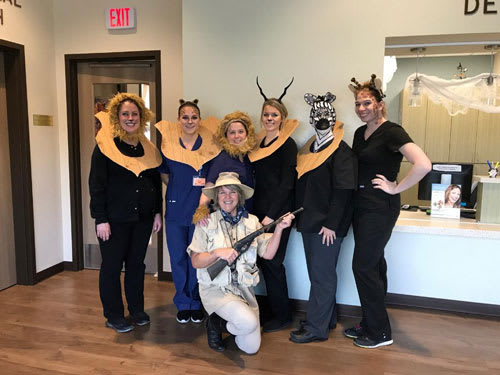 "On rural rotation last winter in Enterprise, I had the opportunity to follow the clinic Community Health Worker (CHW) for an afternoon. Although I was training as a Family Nurse Practitioner (FNP), it was valuable to see how other members of the healthcare team do their jobs in a frontier area. There was a patient who needed a hospital bed in their home, so these ladies drove to the next town where there was a bed for the patient to borrow. It took digging through a snow drift and some heavy lifting, but we got the bed loaded, and the CHWs delivered it that evening," said Capella Crowfoot Lapham, RN, BS, FNP-C.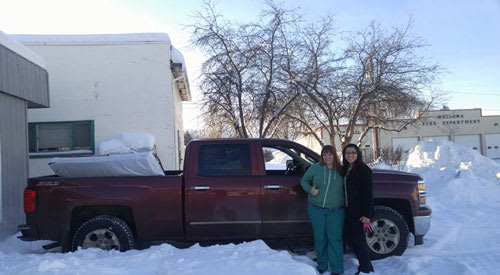 Our rural communities also have unique healthcare needs. Today more than ever, rural areas must address accessibility issues, a lack of healthcare providers, the needs of an aging population suffering from a greater number of chronic conditions, and larger percentages of uninsured and underinsured citizens. It takes a strong workforce to address rural healthcare needs, and the redistribution of professionals to our region is of primary importance to NEOAHEC. We do this by hosting students interested in rural practice who dedicate themselves to this learning through rural clinical rotations.
Over the summer Michael Burt, a third-year medical student and Oregon Rural Scholar from Oregon Health & Science University, did a twelve-week rotation at Grande Ronde Hospital in La Grande, with general surgeons Dr. Andy Pearson and Dr. Chris Woodworth.
Michael, who is from Montana, found his way to La Grande through a fellow medical student and lifelong Union County resident, Nick West. Northeast Oregon AHEC hosted Michael and Nick, along with twenty-six other OHSU medical students over the past two years during their Rural Medical Discovery week each spring. Born from that exploratory activity, Michael knew he wanted to come back and do a rotation at Grande Ronde Hospital in general surgery and did everything he could to make that happen, establishing a new general surgery rotation for our region.

In his Rural Scholars project, Michael discussed the growing shortage of rural general surgeons who are part of the backbone of healthcare in rural communities. There are several reasons associated with general surgery residents choosing to practice in rural areas. Two of these factors are directly linked to the work of NEOAHEC. According to the article, "Factors Correlated with Surgery Resident Choice to Practice in a Rural Area," by Jarman, et al., students who attend nonurban high school or college are more likely to practice in a rural area. Similarly, 79% of students completing a rural clerkship during medical school choose to practice in a rural community, as opposed to 37% of students who have not.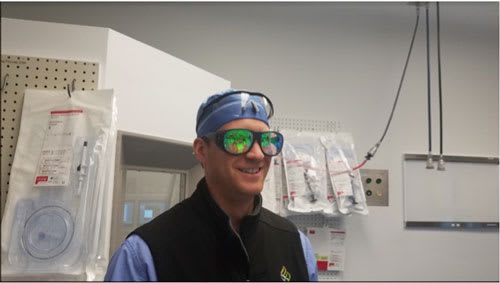 "I know more about professional and personal lifestyle and I understand the home life I can have when I practice in a rural area because of my time in La Grande. While my wife and I Iived in the community, and I learned alongside the OR crew and Dr. Pearson and Dr. Woodworth, my wife worked on a local farm helping with [the] mint harvest. We became part of the community and learned about the unique healthcare needs of Union County. This rotation solidified my desire to practice rural general surgery," said Michael Burt.

Today is National Rural Health Day and we celebrate Michael, Capella, Yvonne, and other students who choose to learn in rural places. We also celebrate with admiration the rural providers who teach the next generation of healthcare providers. We "Celebrate the Power of Rural" by honoring the selfless, community-minded, "can do" spirit that prevails in rural America, and bring to light the unique healthcare challenges that rural citizens face.