Program Rocks Scientific Imaginations of Local Girls
While other students spent Saturday, October 28th finalizing their plans for trick-or-treating, nearly 100 middle school girls from around Eastern Oregon celebrated Halloween early at this year's Girls in Science event. The 6th-8th grade junior detectives descended on the Eastern Oregon University campus to join the ranks of EOU chemists, biologists, mathematicians, psychologists, and computer scientists for a fun geology- and Halloween- themed investigation dubbed "Crystal's Dreadful Party: A Mineralogical Mystery." In true CSI fashion, the girls were tasked with determining whether or not Crystal was killed at her costume party, and if so, with uncovering the culprit and murder weapon.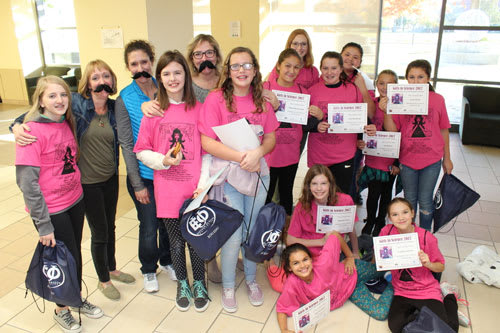 The girls began their mission by examining the elaborate crime scene and interviewing members of the gem-studded party roster, including the fictional "Professor Grant Basalt," "Opal Fahr," "Ruby Saffire," and "Malakai T'Uh"—all played by EOU theater students. Then the students continued to untangle the mystery by rotating through activities in EOU's classrooms and science labs. They measured femurs, tested fake blood samples, set off chemical reactions, decoded messages using binary numbers, and much more. Event attendees even had the opportunity to get a first-hand taste of college life by fueling up in EOU's Hoke Cafeteria. The day ended with gasps and laughter from students as Crystal made a surprise reveal to confess that she had faked her own death out of revenge for her sister, Opal.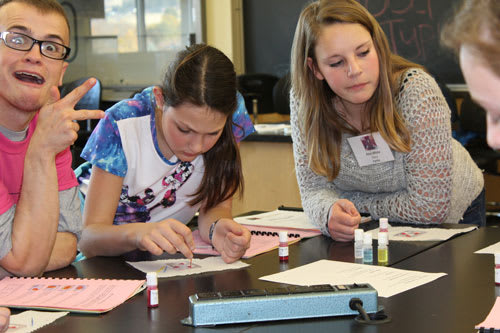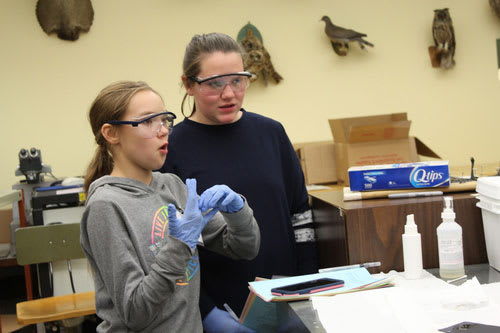 Watch the dramatic ending here:
https://www.youtube.com/watch?v=cSc8SkwWAMg&feature=youtu.be
Girls in Science truly represents a one-of-a-kind opportunity to inspire young girls to take an interest in science-related careers. In its 17th year, the program still solicits rave reviews, with one 2017 student exclaiming, "This is the most fun I've had all year!"
NEOAHEC is proud to continue to offer this program in partnership with Eastern Oregon University, and the duo would like to extend gratitude to the following individuals and organizations for making Girls in Science 2017 possible:
-Carol Campbell
-Chapter DK P.E.O
-Chapter J P.E.O
-Marie Rampton
-Pepsi Bottling Co. of Eastern Oregon
-Richland Section American Chemical Society
-Soroptimist International of La Grande
-XI Alpha Mu of Beta Sigma Phi
Further, this event would not have been possible without this year's 50+ volunteers, including EOU faculty; members of EOU's Biology Club, Chemistry Club, and Psychology Club, along with theater students; and other community members. Girls in Science is the prime example of a community team effort, and we look forward to many more years of this unique collaboration.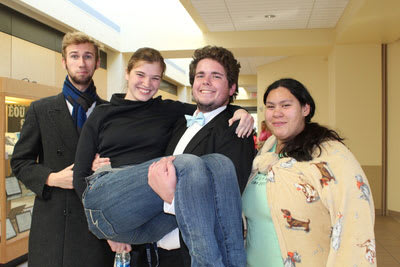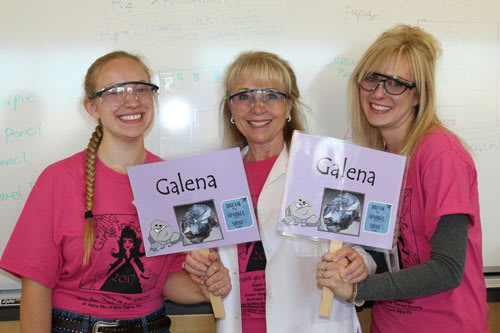 (Right: Dr. Anna Cavinato with EOU student volunteers/former Girls in Science participants).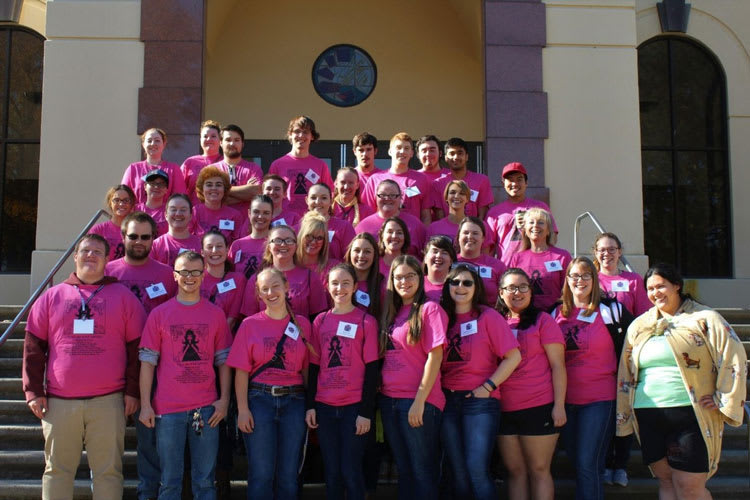 **Girls in Science is in the news!**
Check out this great video by LaGrandeAlive.TV., featuring interviews with NEOAHEC's Brittany Hargrove, and EOU's Dr. Anna Cavinato and Dr. Karen Antell.
https://www.youtube.com/watchlist=PLMV7m2GN6xFOuNj1hgE5QX_fmKzso6fgC&time_continue=2&v=v9OWu53IHKw
The Observer also covered the event. Access the story here:
http://www.lagrandeobserver.com/news/local/5710924-151/crime-scene-at-eou-is-a-teaching-opportunity