Dynamic Trio Partners to Advance Regional Health Careers Education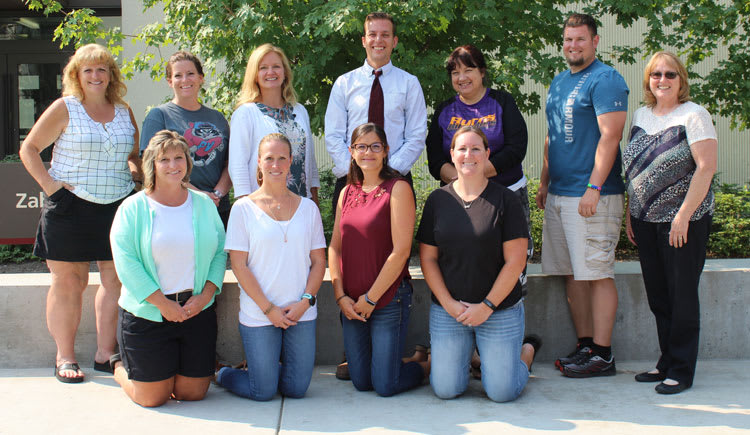 "Focus on the students." For many years this has summarized NEOAHEC's commonsense approach to tackling our region's healthcare workforce shortage. From providing hands-on science and healthcare opportunities via programs like Girls in Science and MedQuest, to offering fully-furnished housing for medical students, our organization is known for delivering direct support to students to inspire and equip them to pursue rural health careers.
However, NEOAHEC, with the support of Eastern Oregon University (EOU), and GO-STEM, recently began an initiative with a more nuanced and unique focus: GO-Healthcare Professionals. Although students are still at the core of this program, it aims to grow Northeast Oregon's healthcare workforce by supporting and developing regional instructors.
"Our eleven-county region is too large for NEOAHEC to have the kind of impact on students needed to ensure their success in pre-health professions," said Meredith Lair, Executive Director of NEOAHEC. "The real strength of this program are the teachers who interact daily with high school students interested in health careers. By providing them with knowledge and resources about health careers, students will be better prepared to move on to college or other training programs."
In turn, August 7th-9th marked the exciting launch of the new partnership and Professional Learning Community (PLC) geared toward cultivating area instructors so they can successfully deliver NEOAHEC's Future Health Professionals of Oregon (FHPO) curriculum at their schools. FHPO is a two-credit online Science 116 course offered through Eastern Promise, which allows students to delve into the vast world of medical professions while earning two college credits for only $62. It also satisfies PES 131—a required course for all tracks within EOU's Physical Activity and Health program.
Nine Eastern Oregon teachers and two Deschutes County observers attended the GO-Healthcare Professionals kickoff on the EOU campus in La Grande. Dr. Kyle Pfaffenbach of Eastern Oregon University led the immersive three-day workshop, helping participants explore the newly-revised course modules, understand how to grade incoming assignments using the Canvas platform, and uncover helpful resources and up-to-date information needed for health occupations advising. He also led the teachers on a tour of EOU's Exercise Science lab, and guided them in navigating DegreeWorks software to show them how to help their students plan their college course schedules with ease.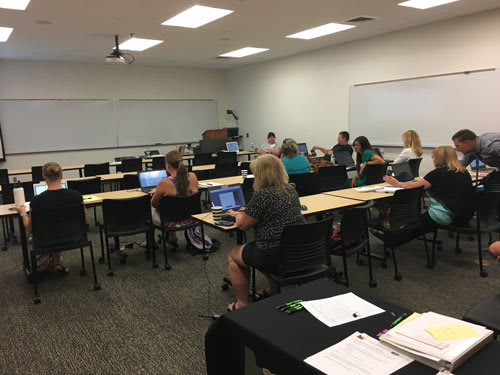 This event was met with glowing reviews. One participant said, "I was pleased and impressed with the knowledge and guidance this class provided. I feel it was time well invested." Another noted, "Kyle was a wonderful speaker. He was great with leading the discussion, and very knowledgeable."
Evaluation data also reflects the workshop's success. In pre-and post- evaluations, participants were asked to rate their agreement with several statements from 1 (strongly disagree) to 5 (strongly agree). These included, "I have an understanding of 4-year undergraduate planning for careers in healthcare, "I feel prepared to teach a class regarding healthcare professions," and several others. As the following graph makes clear, average responses changed significantly from the start of the workshop to its conclusion, marking a definitive increase in knowledge.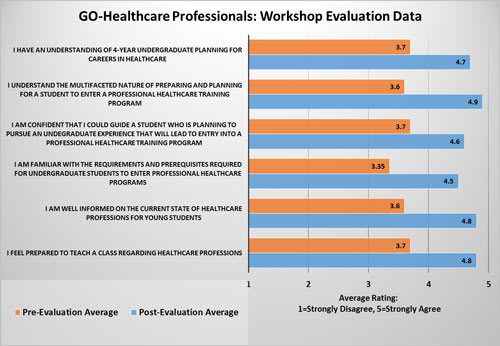 The members of GO-Healthcare Professionals are now trained, ready, and excited to implement the new FHPO curriculum at their schools. The majority of the participants will begin offering it during EOU's winter term, with two others starting this fall. As required by Eastern Promise, members of GO-Healthcare Professionals will continue to hold regular check-in sessions to provide each other with resources and support as they deliver the course to their students.
NEOAHEC, GO-STEM, and EOU are incredibly optimistic about the potential long-term effects this new program could have on our regional students, schools, and eventually, our healthcare workforce. Stay tuned for more news about this growing initiative!
Also, check out The Observer's story about GO-Healthcare Professionals!