A Career in Rural Healthcare: Is it for Me?
By Brittany Hargrove--Northeast Oregon AHEC Administrative & Outreach Coordinator & Robert Duehmig--Oregon Office of Rural Health Deputy Director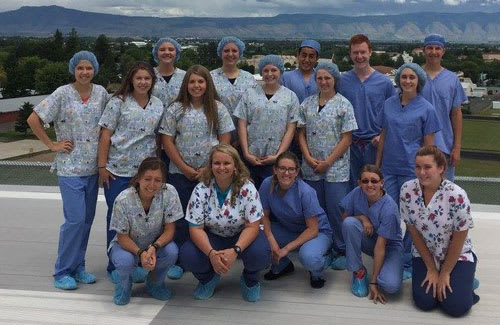 Quiz time! Did you know that approximately 20 percent of Americans live in rural communities, but fewer than 10 percent of our nation's doctors call these same areas home? Few people do. However, for those who are aware of this troubling statistic, it is no secret that pursuing a career in rural healthcare can be a great way to make a tangible difference in small communities. Nevertheless, altruism alone may not be compelling enough to convince a health professional to practice in rural America. With what may seem like boundless career opportunities in large cities, and the common misconception that rural health careers mean lower wages for longer work hours, some may rightly question if this would be a wise choice for their career. They may think, "Sure, helping out a rural community would be nice, but would it really be a good fit for me?
To help answer this question, here are some interesting things to think about when it comes to rural health careers:
*Professional growth: Health providers who move to rural areas often find that their practice gives them the opportunity to pull on all they learned during training, and to practice a full scope of patient-centered care. In fact, Dr. Jon Schott, a family practice physician from Baker City, cited this as one of the major draws that convinced him to stay in a rural area. "Medically," Schott explained, "the variety of issues we are expected to manage in rural medicine is a huge attraction." Still, he admitted the challenges that come with rural health careers are not for everyone, such as a lack of medical equipment. He added, "Maintaining the skills required to provide quality care can be hard, [and] the changing demographics of medical providers and the shortage in primary care is especially challenging in rural and frontier areas."
*Better Compensation Plan: Contrary to common myth, medical professionals in large cities do not necessarily earn higher pay than their urban counterparts. In fact, Becker's Hospital Review recently reported findings from a 2015 study conducted by The Medicus Firm—a national healthcare staffing company. According to Becker's, "The average placement salary for family practitioners in rural areas was $227,261 — 16 percent more than the average urban salary and nearly 10 percent more than the average salary in a mid-sized community."
Many other studies have echoed similar findings for a variety of health careers, especially when adjusted for the lower cost of living in rural areas. Not to mention, this figure does not include other long-term benefits associated with rural practice that can include relocation assistance, potential for signing bonuses, a shortened work week, a better call schedule, production bonuses, and more favorable retirement plans.
*Incentive programs: Many rural health professionals are eligible for special government incentive programs. In Oregon, providers may qualify for the Oregon State Partnership Loan Repayment Program (SLRP), paying up to 20% of their qualified college loans. In addition, the Oregon Rural Practitioner Tax Credit provides a tax credit of up to $5000 for qualified providers, and the Oregon Legislature will be reviewing other potential provider incentives during the 2017 session.
*A unique way of life: Rural practice offers a unique opportunity for achieving a work/life balance. Physicians can easily find access to a plethora of outdoor opportunities that are generally not available to health professionals and their families in the city. Whether it is gardening, hiking, raising livestock, or cutting down your own Christmas tree, rural America is where the action is. Not to mention, health providers rarely have to worry about spending hours stuck in traffic when commuting to work!
*Greater connection to patients: Many small-town healthcare providers have the opportunity to develop stronger physician/patient relationships than they might in urban settings. Rural practice offers a place not only to treat patients, but to care for them. By providing whole patient care, providers are able to follow care plans for their patients from start to finish. Still, Schott warned, "Caring for people medically who are also friends and neighbors can be a challenge emotionally as well as professionally as one attempts to maintain objectivity."
So to those health professionals or aspiring health workers who ask "Is a rural practice for me?" when considering health careers, these are just a few of the special advantages (and challenges) awaiting providers in small communities. It is a question that ultimately comes down to each health professional's goals for their career, their family, and their personal life.
NEOAHEC wants to hear from you! If you have any great stories that reflect the benefits of rural healthcare, from the perspective of a patient or a provider in Eastern Oregon, please shoot them our way. We would love to connect with you!
As always, please stay tuned for more news from NEOAHEC, and be sure to "like" us on Facebook to access up-to-date more information about health careers and upcoming events.