Girls in Science
Interested in science, math, and computer science?
Check Back in later for information on Girls in Science 2022!!!
Recap of this year!
Virtual Girls in Science 2021!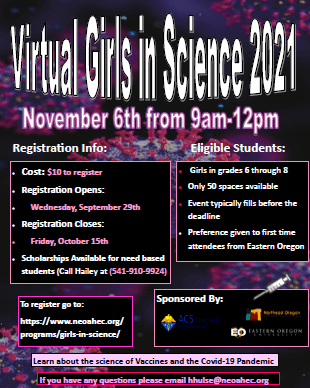 Registration Opens Wednesday, September 29th, 2021.
Registration Closes Friday, October 15th, 2021.
Cost: $10.00
ONLY 50 Spaces Available!
What is Girls in Science?
Girls in Science is an annual event at Eastern Oregon University that provides girls in grades 6-8 with an exciting day of hands-on STEM exploration! Hosted in collaboration by NEOAHEC and EOU, it allows students to dive head-first into an engaging science mystery that explores topics in chemistry, biology, mathematics, and computer science. Watch for annual application instructions and details!
Girls in Science is open to 6th-8th grade girls throughout Eastern Oregon. Preference is given to first-time participants, but past attendees are still welcome to apply! Note that we set offer guaranteed spots for each county in our region.
*Only 50 spaces available!
The camp will be offered virtually!
November 6, 2021 offered Virtually!
The $10 registration fee includes materials for camp. This must be paid online with a debit or credit card at the time of application.
In the case that a student is not selected for Girls in Science, the fee will be refunded.
Please contact Hailey Hulse at hhulse@neoahec.org if you have any questions. Or call 541.910.9924.
In this section
Related links
Contact us
One University Blvd.
La Grande, OR 97850
541.962.3422
Fax: 541.962.3416
neoahec@eou.edu