The Dalles, Oregon: Find Your Future in Health Care and have serious fun at MedQuest Camp
Juntos and Northeast Oregon AHEC are thrilled to offer a new camp in The Dalles, this spring. Along with One Community Health and Mid-Columbia Fire and Rescue, and amazing staff, campers will improve their understanding of careers in healthcare and enhance their knowledge of the field of healthcare, all while having an amazing time and making new friends.
This 3- day camp is designed for Juntos students of The Dalles to learn about healthcare careers. Campers will have job shadows, learn how to take vitals, hear from current healthcare professionals and students in healthcare programs, and participate in hands-on activities.
Highlights include:
Three job shadows in healthcare
Mentorship from Camp Director, Counselors, and healthcare professionals
Daily emphasis on team building
Hands-on experiences to learn clinical skills
CPR Training
Connection to health professions students in Nursing and Physician Assistant
2023 Camp Details
Location: One Community Health 1040 Webber St, The Dalles, OR 97361
Dates: March 19 – 22, 2023
Age Group: 20 spots available for current juniors or seniors in high school living in Wasco county enrolled in the Juntos or Migrant Education programs. Students must commit to the entire camp to participate.
Cost: Camp is free of charge
Schedule: 8:00 a.m. – 7:00 p.m. – Breakfast, Lunch, Dinner per the agenda provided with snacks
2023 Camp Ages
This Day Camp is only open for current juniors and seniors in high school living in Wasco County who are part of the Juntos Program or Migrant Education Program. There are only 20 spots available. We ask that you commit to the entire camp to participate.
What's included in camp?
Three camp t-shirts
Health professional Stethoscope to inspire you along your pathway
CPR training
A trip to Dutch Bros.
Camp Staff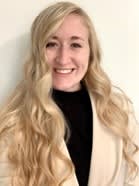 Hailey Hulse, Juntos MedQuest Camp Director

Andrea Flores-Reyna, Juntos MedQuest Camp Coordinator

Aldo Rivas, Junto's MedQuest Camp Counselor
Camp Partners