Sara Schumann Memorial MedQuest Scholarship
Learn more about Sara's life & dedication to MedQuest
Sara knew she wanted to be in the medical field since she was a child. Her mother worked in a hospital, and Sara grew up knowing the doctors, nurses and medical assistants that her mother worked with. She talked to them about their jobs, and asked questions that often surprised them. When given the opportunity to attend Oregon Connections Academy, and take classes towards becoming a medical assistant, she jumped at the chance. Sara also volunteered at Salem Hospital, and because of that, she was able to shadow people in the Emergency Room. She surprised them with her knowledge, eloquence and insightful questions. Several people were shocked to find out that she was only a sixteen year old high school student, and not in medical school. Sara did a lot of thinking about her future, and had decided that she wanted to become an OB/GYN so she could deliver babies into this world.
Sara also had a giving heart. In addition to volunteering at the hospital, she also volunteered at her church.
She worked in the nursery on Sundays, working primarily with infants and toddlers. She also went up to
Portland to serve coffee, sandwiches and whatever else was needed to the homeless that lived near the
bridges. She listened to their stories, and held their hands.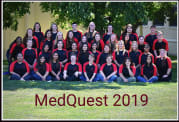 In 2019, Sara was told about MedQuest by one of her teachers. She jumped at the chance to experience this amazing opportunity! She applied for it, and then she waited. When she found out she had been accepted, she was so excited! By the time she arrived at the camp, she was nervous, too. That lasted two minutes. She made a friend as soon as she pulled her suitcase out of the car, and they kept in touch even after camp was over. Sara learned a lot at MedQuest, and she had fun. She couldn't wait to apply to be a counselor when she was older.
Sara was seventeen years old and on track to graduate from high school with her medical assistant
certification in 2021. She was taking college credit classes for Linn Benton Community College, and
planned to finish her general education classes there before transferring to a university. Sadly, Sara's life
was tragically cut short on August 7, 2020, when she was killed in a senseless car accident. She was only
on this Earth for a short time, but she touched a lot of lives. We hope her legacy lives on through this
scholarship.
How to Apply for this Scholarship
Contact Hailey Hulse, MedQuest Camp Director at hhulse@neoahec.org or by phone at (541) 910-9924.
Donate to this Scholarship Fund in Support of Future MedQuest Students
Contact Meredith Lair, NEOAHEC Executive Director at mlair@neoahec.org or by phone at (541) 975-4509.