Getting Brainy at La Grande High School
By Brittany Hargrove--NEOAHEC Admin. & Outreach Coordinator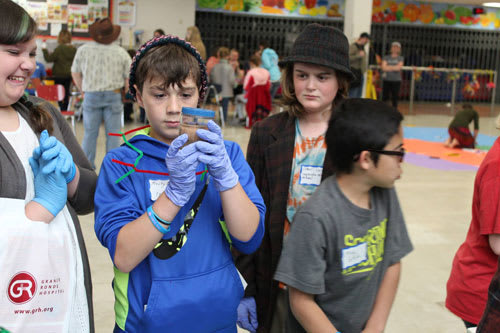 On Saturday, May 20th, a group of more than 70 eager 6th-12th graders from communities in Northeast Oregon put on their thinking caps and joined NEOAHEC for a free morning of neuroscience fun at the La Grande High School cafeteria.
During the 2 ½ hour program, students were able to interact with a troop of 15 graduate, undergraduate, and doctorate volunteers from universities around the Northwest. Students began by picking the volunteers' brains—almost literally!–asking questions ranging from topics like dyslexia to the brain's consistency. Then, smiling ear to ear, the students rotated through several stations where they fashioned neuron replicas out of pipe cleaners, made neuron-like gel prints from plants, explored electrophysiology with a Mind Flex game and other activities, and channeled their inner artist by doodling on a giant paper brain model on the cafeteria floor. Most importantly, the students rolled up their sleeves, plugged their noses, and got up close and personal with real human and animal brains.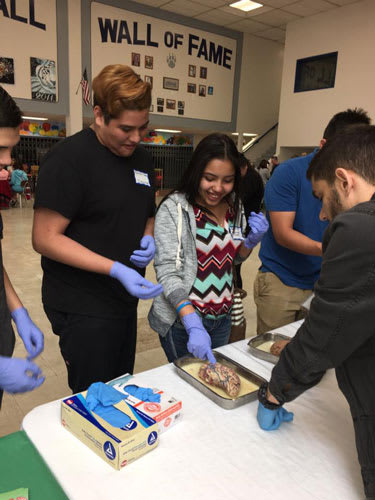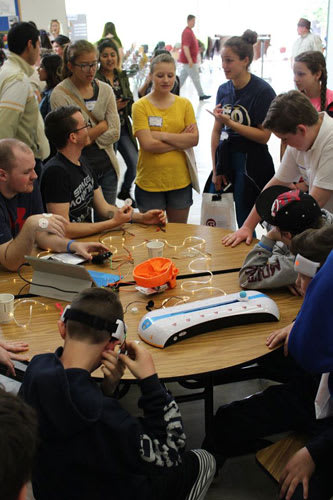 The event was certainly an incredible hit! Students even enjoyed goodie bags filled with fun prizes like brain erasers and custom "I love brain" bracelets, plus delicious cupcakes donated by Le Bebe Cakes Coffee Shop and Bakery. Approximately half a dozen students were so immersed in the morning's activities that they lingered long past the closing time to soak up as much neuroscience fun as possible.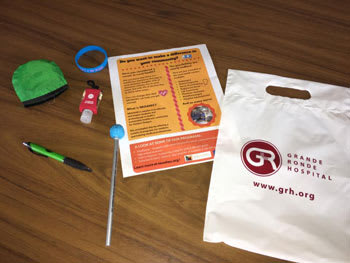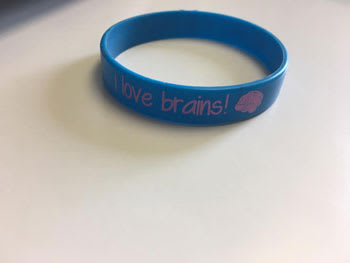 The program solicited a variety of favorable comments from students, including Lillie Parker-Halstead, a La Grande High School freshman who is interested in pursuing a career as a neurosurgeon. She said her favorite part of the event was touching a human brain, calling it "super cool!" Conversely, Emma Orr, a seventh grade student from North Powder, approached the brain component more casually, saying, "Touching a real brain was no big deal. I didn't think it was gross." She added, "My favorite part [of the event] was the shocking machine!"
NW Noggin, founded by Portland State University (PSU) instructor and artist, Jeff Leake, and Bill Griesar, Ph.D.—a professor of neuroscience at OHSU and PSU—is a nonprofit and traveling educational roadshow of sorts. It roams the Northwest to deliver neuroscience education to students where they are. According to the organization's website: NW Noggin (Northwest Neuroscience Outreach Group: Growing in Networks) is a robust, creative, and largely volunteer driven non-profit organization that brings scientists and artists and students of all ages together to share their expertise, enthuse young people about science and art, share area educational resources, and inform and excite the public about ongoing, taxpayer-supported neuroscience research."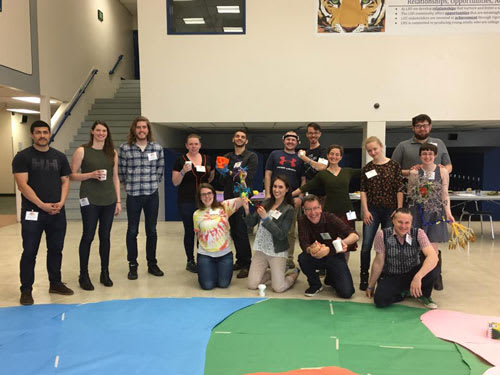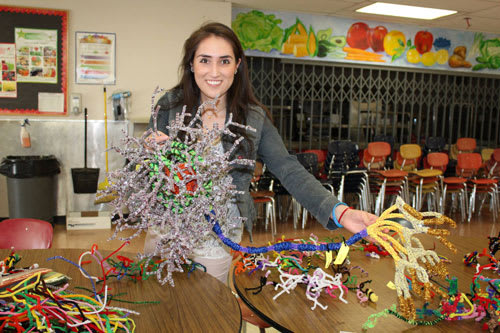 NEOAHEC was thrilled to be given the unique opportunity to coordinate this program, thanks to a helpful lead from Bob Duehmig from the Oregon Office of Rural Health. We also received a tremendous outpouring of support from several businesses and organizations. First of all, we would like to extend our heartfelt thanks to the La Grande School District for hosting the event, with a special acknowledgement to Principal Baxter, Vice Principal Carpenter, Char Hampton, and Joseph Waite. Also, thank you to OHSU, Grande Ronde Hospital, Grocery Outlet, Pepsi Bottling Co., Le Bebe Cakes Coffee Shop and Bakery, Safeway, La Grande Eat & Run, Island City Market & Deli, Displays2Go, and RapidWristbands.com for your in-kind donations. Finally, this event would not have been possible without Bill Griesar, Jeff Leake, and the rest of their "brainy" volunteers who made the trip to La Grande from Portland and other locales around the Northwest. Thanks for showing our students a great time and teaching them the importance of this fascinating organ!
Read NW Noggin's take on the event HERE.
Also, check out The Observer's great article about this program:
As always, stay tuned to NEOAHEC and our latest happenings, and don't forget to like us on Facebook!